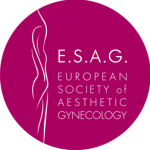 ESAG
The European Society of Aesthetic Gynecology | ESAG is a premier professional organization of cosmetic gynecologists located in Europe as well as worldwide, who specialize in aesthetic (cosmetic) surgical gynecology. ESAG aims to decisively contribute towards the promotion of innovation in aesthetic surgical gynecology in Europe and beyond.
The mission of the European Society of Aesthetic Gynecology | ESAG focuses on the provision of medical and public education in the field of aesthetic gynecology, as well as the contribution, in a charitable way, to challenged patient groups who may benefit from the organization's expertise.
My Courses
Read More
ESAG's Congresses traditionally gather prominent expert speakers from all around the world to share their knowledge and offer up to date surgical and non-surgical...